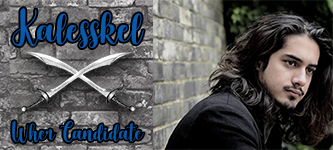 So much had happened since he bumped into Yarana one night and discovered she had Bonded to a Wher accidentally. Since then he had personally witnessed a woman bond with a whole new species of Wher and helped rescue a clutch of eggs from perishing in a fire. He had suffered a few burns from the incident but all had healed now. Curious about how things had gone for Yarana while he had been exploring an Island and seeing many new and exotic creatures Kal decided to track her down on a Freeday he hoped she was also enjoying.
After finishing up his usual evening routine of exercise and taking care of his pets Kalesskel headed out towards the Wherling's barracks and cast his eyes about for the very distinct form of Yarask. He had never seen a Wher like her and it was easy to spot her hide even under the starlit sky. Heading towards the Wher it didn't take Kalesskel long to spot the Handler nearby.
"Good evening Yarana and Yarask," he called out as he approached. "I was hoping to run into you tonight especially since I heard this is a Freeday for you as well."